Golf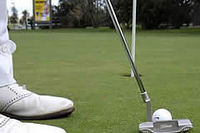 Under the guidance of professional golfer, Dion Kipping, Gecko has developed a range of synthetic grasses that perform and react like any natural green.
Dion and Gecko spent a tremendous amount of time developing a grass that would ultimately provide a "true ball roll". To achieve this desire, Gecko has spent hours testing "the science of golf" as associated with grass surfaces and ball roll characteristics. Finally satisfied with the end result, Gecko released it's range of synthetic grasses specifically tailored to the individual's requirements. This means that there is a grass to suit everyone from social players to professional golf courses.
 "…precision installation of competition grade golf surfacing!"
 SYNTHETIC PUTTING GREENS – GOLF COURSE
With the employment of professional golfer – Dion Kipping and our internationally experienced installation team Gecko has created various surfacing products including a synthetic putting green that behaves and reacts just like a natural golf green does.
At the very beginning to find the right formula to build a realistic green Gecko Surfacing Solutions invested an enormous amount of research and development in designing a "true to life" green. Working with our internationally experienced team we completed our objective with a green that almost mimics any natural green. Dion's input was a critical factor to arriving with the 'package'. Prior to Gecko, Dion had been involved in the golfing industry for almost 20 years, becoming a Professional Golfer and US PGA Tour Caddy for the likes of Aaron Baddeley and Robert Allenby amongst others.
After releasing his book "Caddie to the Stars", and returning from a commentary stint in the U.S. Masters in Augusta for Channel 10, Dion has worked alongside Gecko's internationally experienced installation team. Combining their knowledge and experience at an elite level within the golf industry Gecko has developed one of the most realistic world class synthetic putting surfaces in the business. Gecko greens are installed using unique products, expert 3D AutoCad design and proven construction techniques, resulting in our greens having all the features of a natural grass green!
SYNTHETIC TEE OFF GRASS – GOLF COURSE

STOP your tee's and fairways turning into mud in winter and have a perfectly lush surface without water in summer, while saving on maintenance by up to 98%!!!"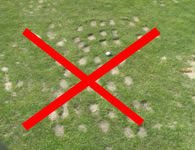 Due to the high maintenance and lack of water to care for tee off areas, Gecko's Tee Line series was developed to replicate hitting from natural turf. Many tee lines or hitting mats are produced with a thick rubber base, and thin, tightly woven nylon on the hitting surface. This surface can produce injury and also creates a bounce effect as the club hits the mat, thus resulting in an unrealistic shot.
Our tee lines have been uniquely designed to completely reverse this conforming belief on hitting mats resulting in our enormously dense market leading surface that mimics that of striking a ball on a real golf course. We are so excited about this revolutionary product for tee liners ensure the hitting area has the same realistic feel as hitting from natural turf!
Due to the dense surface, the longevity of the product is also increased making the Gecko Tee Line the fastest growing preferred option for golf hitting mats.
Gecko's Rubber Safety Logs can provide a superb perimeter to our Tee-Off grass. They also offer the ability to fasten the Tee-Off grass edge for greater security and stability. Gecko Tee lines can be installed by our team at Gecko or purchased directly along with a free installation guide to ensure optimum results.
WHY GECKO GREENS
For so long, synthetic putting greens have been an unrealistic option to harness your short game skills. That has now all changed! After extensive researched and development, Gecko has now introduce a world class putting green that stands alone as a market leader in its realistic characteristics and feel.
Our greens offer an all year round practice facility –
Visually stunning and functionally perfect putting greens
Extra surface strands allowing natural, consistent speed
Professional world class designs
Realistic feel and look
The feel, speed, and reaction to approach shots mimics that of professional tour greens
Doubles as an entertaining area for friends and the entire family.
Gecko Greens are installed using unique products, expert design, and developed construction techniques that result in our greens having all the features of your home course available in your own backyard!
Gecko's diligence to provide a market leading putting surface customised to your requirements, has meant any area great or small, can be utilised according to size and affordability, while never scrimping on quality.
Gecko Greens add beauty and value. Our putting greens are virtually maintenance free, requiring no special mowers, seeding or constant watering. It maintains its visual attraction year after year.
At Gecko, we take great pride in delivering a world class product and receive enormous satisfaction from supplying our customers with a realistic, stunning looking end result. You will not only have your very own fantastic practice facility but also an unbeatable entertaining area!
GECKO'S DESIGN CONSIDERATIONS
The design process is undertaken using careful consideration and consultation with our customers to ensure all of their necessary requirements are met. The use of Gecko's highly experienced Technical team along with our 3D AutoCAD computer program, results in a state of the art, uniquely specific design.
Important Factors
Layout
Excavation
Slopes, tiers, and undulations of the putting surface
Pitching and chipping area's
Water and sand hazards
Drainage
Additional hole locations
Flags
Fringe and rough grass
Landscape opportunities
---