Tennis
Gecko surfacing for tennis courts offers professional grade technology suitable for top level playing courts right through community level requirements.   Greater traction when twisting and turning ensures minimal risk of player injury and our premium surfaces not only look good but provide a consistent ball bounce.  Gecko's MSPRO®19 Synthetic Grass Courts and GeckoPave® Acrylic Surface Courts both offer a range of colours and line alternatives and are installed by professionally trained installers for your peace of mind.  So whether your preference is for 'bright and colourful' or more 'traditional', Gecko has a surfacing solution for you.
 "Gecko Surfacing…
looks good & provides a consistent ball bounce !"
---
Introducing solutions for Tennis Courts…

Gecko's GeckoPave® Acrylic Surfacing is widely used on  Tennis Courts,  Basketball Courts, Netball Courts and Multi-Sports Courts.  It provides a consistent and even playing surface with exceptional traction which in turn promotes athlete confidence and optimum performance.  View more information
---
---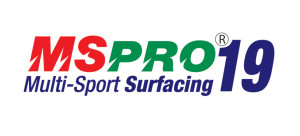 MSPRO®19  is our Sports Surfacing grass and is able to withstand the rigours of frequent use and children playing.  This low pile grass is durable and eliminates hard concrete and dry dirt areas.  It is available in a range of bright, attractive colours and is perfect for tennis courts, general play areas, sports courts, running tracks, netball and basketball courts and games areas.  View more information
---
Sporting Equipment:
A range of tennis nets, goal cages, rings and posts can be purchased to complement your new court systems – View more information
Court Configurations and Colours:
Gecko Basketball and Netball Courts come in a range of designs and colours to suit your needs.  The following are examples of court colours and designs but the range extends far beyond these… contact us for further information on the colours and designs available or work with us to create your own!
---
---
---