Installation – Infrastructure
Large area surfacing installation
Practical and hard wearing, Gecko synthetic grass is perfect for large surface areas. Our professional installers ensure that the product and installation of the product meets the specifications and requirements of your project.
1. Initial design options discussed with client include:
Location
Layout and drainage requirements
Excavation required
Base preparation to suit application eg. vehicle encroachment
2. Installation considerations
Traffic management requirements
Impact to local environment – noise, dust etc
Layout of materials and in particular, synthetic grass to achieve maximum efficiency in material usage and work-time spent on site
All safety aspects to ensure fellow workers are not exposed to any traffic risk
 View case study on Cowra Shire Council
---
---
---
Installation – Landscaping
How our certified Gecko installers lay synthetic grass
In a climate where watering large expanses of lawn are a thing of the past, Gecko Grass provides a premium solution. Attractive and functional, pet friendly and perfect for pool areas this grass will ensure that your property remains green all year round. The sensible landscaping solution for large and small areas.
Step 1: 'Set out' area
Area is marked out for excavation.
---
Step 2 : 'Excavation'
Excavate by shovel or the use of a dingo/bobcat.
Depending on the likely traffic on the area we recommend the excavation to a depths as follows:
80 to 100mm for non-vehicle areas
150mm when heavy items such as vehicles may drive on the area
Ensure a slight fall across the area for water run off
---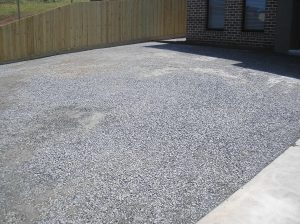 Step 3: 'Fill with crushed rock'
Once the area has been completely excavated and any loose rumble is removed, fill the area with crushed rock and level out with a rake to a depth of approximately 15 to 20mm below any surrounding footpath or edging. This level will drop after compaction.
---
Step 4: 'Wet and compact'
Thoroughly wet the entire base area and then compact with vibrating plate. After compaction check the crushed rock base is now 25 to 30mm below original surface.
---
Step 5: 'Base finishing'
Ensuring the area is 25 to 30mm below the finishing level, fill the area with 'crusher dust' to approximately 5mm below the finishing level. Screed the entire area level and once again thoroughly wet the entire area and compact with vibrating plate. Make sure no stones are protruding above level surface.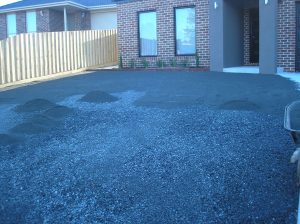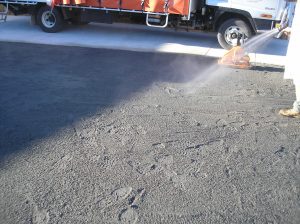 ---
Step 6: 'Roll out grass'
Determine the best edge to begin rolling out your Gecko synthetic grass. The longest and straightest edge is the best to start with. Ensure the Grass rolls are all laid in the same direction each time.
---
Step 7: 'Cutting in'
Cut off excess synthetic grass with a sharp knife from the back side. To ensure straight cuts, use the same row of yarn as your latex backing. When cutting in around the edge areas take your time and only cut a small distance before checking regularly for accuracy.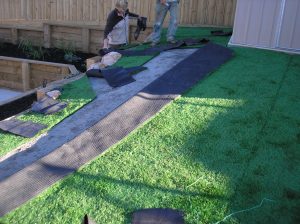 ---
Step 8: 'Joining the grass' & 'Pinning the edges'
Fold back the seams of both rolls and ensure the backing is dirt free and dry. Using Gecko's 'self-adhesive' synthetic grass tape roll it out so it is positioned centre to the grass joined when it is laid back down.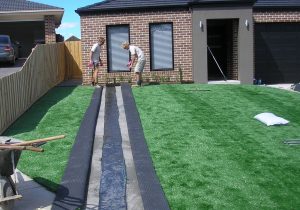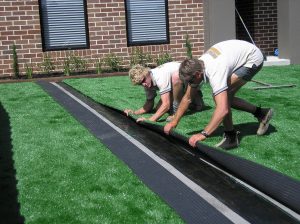 The final step before infilling the grass is to pin the edges with Gecko's 150mm Anchor nails. Using Gecko's anchor nails to secure the grass edges, nail in through the top of the synthetic grass around the entire perimeter at approximately 300mm apart and about 25mm in from the grass edges.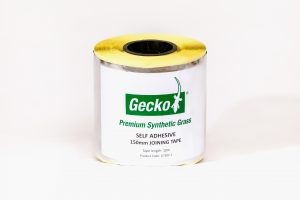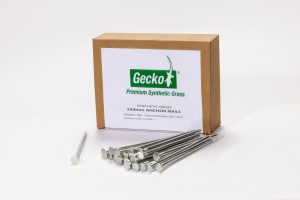 ---
Step 9: 'Infilling grass'
Before adding any infill into your synthetic grass leave it warm up in the sun which will natural lift the grass blades, or alternatively use a stiff bristle broom to brush against the grass blades/pile. By lifting the grass blades it will allow the infill to fall into your synthetic grass easily rather than sitting on the top.
Evenly spread Gecko's silica sand (which doesn't retain moisture) and broom into the grass. It is better to apply smaller amounts at a time to ensure a more even application.
Then with either a stiff bristle broom or a power broom brush in the sand infill so there is no evidence of the sand remaining on top.
Finally as an option you may infill your synthetic grass with rubber crumb granules. This adds depth in colour to your new grass surface and provides a softer feel under foot.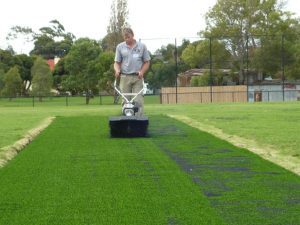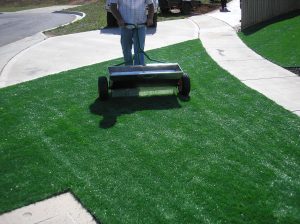 ---
Step 10: 'Ready for use'
Congratulations!!! Now your new Gecko synthetic grass lawn is ready for immediate use.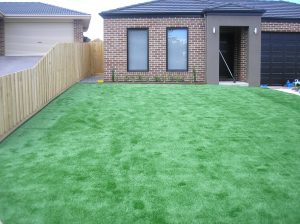 ---
Installation – Campsite Grass
How our certified Gecko installers lay synthetic campsite grass
Step One:
We excavate the site to 100mm deep with a slight angle from the centre to each edge, allowing for drainage. The size of the excavated are varies depending on the size of the mat. Some excess dirt is retained to backfill (step 3b)
---
Step Two :
a) A timber frame is constructed by joining the four pieces with screws
b) The frame is laid within the excavated area and checked to ensure that it is square.
---
Step Three :
a) The frame is secured to the excavated surface by hammering the 300mm anchors through the holes provided b) The gaps surrounding the frame are firmly filled with the soil retained from step 1 so that the frame is securely in place.
---
---
Step Four :
a) Crushed rock is placed within the borders of the frame and spread evenly. This is compacted with a whacker. b) An additional 5mm of crusher dust is added and compacted with the whacker, level with the bottom section of the frame. See cross section (4c).
---
Final Steps:
a) The grass is trimmed to the correct size of the area. b) The grass is fixed in position by nailing it to the frame using 20mm clouts at 300mm intervals. c) The area is finished by spreading 15mm of silica sand in-fill evenly through the grass. The sand is brushed in with a hard bristled broom until it is no longer visible.
---
---
Our Guarantee
To support our commitment to providing the very best quality, Gecko supplies and unsurpassed guarantee on it's synthetic grass products of up to *10 years on both the product and installation.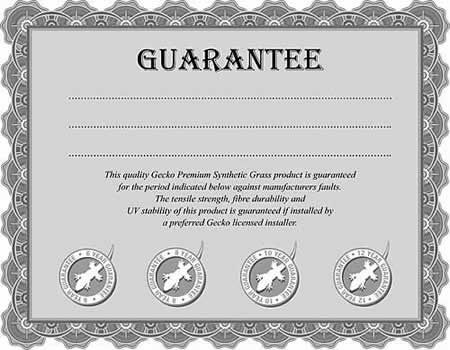 *Disclaimer 10 year guarantee offered on Gecko Product
MSPRO®45 'Plush' laid by an authorised Gecko Installer

In order to offer the unprecedented guarantees provided on their synthetic grass products, Gecko prides itself in it's continuous "Installer" training program. This program brings to the classroom table the latest installation techniques from around the world. Many of our installers who are independently qualified Landscapers, Arborists and even Builders look to Gecko's training regime as 'cutting edge' which in turn provides our clients with quality class product and installation and promotes our confidence in issuing our high level guarantees.
---
Research & Development
Gecko's ongoing research and development places it at the forefront of the industry. Our determination to develop new grass yarns and methods ultimately provides the market with better systems, products and greater value for money.
Some of our recent innovations include:
Cricket pitch Cover System
"Finally, a complete Cricket Pitch Cover System that's convenient, mess free, and takes 2 men less than 1 hour to apply or retrieve!"
 Gecko's unique patent pending hydraulic system makes OH&S issues with cricket pitch covers a thing of the past.
---
View more information on our Cricket Pitch Cover System®
View our project case studies:
Geelong Cats AFL Football Club
Glen Eira City Council
---
Turf Tile
Ideal for balconies, patio areas and also trade shows, Gecko's tile mat offers a point of difference to exhibitors. A solid product that eminates a natural or green focus, this product ensures that your display remains fresh and attractive for the duration of the show.
View more information on our Turf Tile Products
---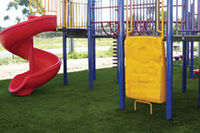 Playground Soft-fall System
Gecko's Rubber Soft-fall provides a SAFE & DURABLE surface which will dramatically reduce the chance of injuries whilst providing an attractive play area for children…
View more information on our Soft-fall Playground System™
---
Installation
---
Quality Assurance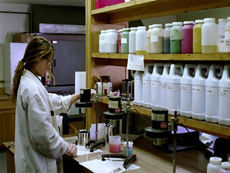 > Gecko's quality control starts from the very beginning at the synthetic grass production line
   and extends right through to the completion of your newly installed synthetic grass surface.
---
Every product in the Gecko range is tested to ensure that it can withstand the rigours of the activity for which is was intended and also for it's ability to deliver the anti-fade outcomes possible for harsh Australian conditions.
Whether it be a synthetic lawn around the home or a football oval at your club or school, there is no compromise with quality and you can feel confident that you are receiving the best product available on the market today.
---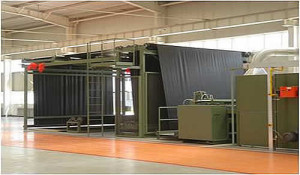 > Quality starts at production
---
> State of the art technology ensures a quality product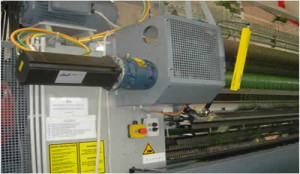 ---
> Excellence in installation and service delivery ensures customer satisfaction
---
About Us
Gecko's head office and showroom are located in Pakenham, a town just east of Melbourne, Victoria.  Our qualified installers travel right throughout Victoria, Tasmania and Southern NSW.  For other regions within Australia, supply only options are available and recommended installers have been established in some locations to support customers purchasing products through us.

The company has been operating since August 2006 and has established itself as a market leader of Synthetic Grass, Rubber and Acrylic Surfacing.   Much of our current work originates from repeat business and word of mouth referrals and our extensive portfolio of project case studies and customer recommendations is testament to our commitment to providing customer service excellence, premium products and services, professional installation and ongoing customer and product support.

The diverse nature of our company divisions ensures that Gecko is able to offer it's customers complementary services to ensure continuity of service and the latest in product technology and trends.

Our product range includes:

Premium Synthetic Grass
Sports Grass
Acrylic Surfacing for Sports Courts
PU- Sport® Surfacing for Indoor Training Facilities
Rubber Wet Pour – Soft-fall
Synthetic Grass – Soft-fall
A range of rubber products and sporting accessories and equipment
---