Research & Development
Gecko's ongoing research and development places it at the forefront of the industry. Our determination to develop new grass yarns and methods ultimately provides the market with better systems, products and greater value for money.
Some of our recent innovations include:
Cricket pitch Cover System
"Finally, a complete Cricket Pitch Cover System that's convenient, mess free, and takes 2 men less than 1 hour to apply or retrieve!"
 Gecko's unique patent pending hydraulic system makes OH&S issues with cricket pitch covers a thing of the past.
---
View more information on our Cricket Pitch Cover System®
View our project case studies:
Geelong Cats AFL Football Club
Glen Eira City Council
---
Turf Tile
Ideal for balconies, patio areas and also trade shows, Gecko's tile mat offers a point of difference to exhibitors. A solid product that eminates a natural or green focus, this product ensures that your display remains fresh and attractive for the duration of the show.
View more information on our Turf Tile Products
---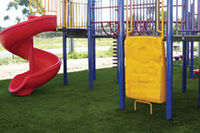 Playground Soft-fall System
Gecko's Rubber Soft-fall provides a SAFE & DURABLE surface which will dramatically reduce the chance of injuries whilst providing an attractive play area for children…
View more information on our Soft-fall Playground System™