Tourist & Caravan Parks
Gecko's extensive range of products provides a tourist and caravan park solutions from landscaping and campsite definition, to sporting and recreation areas, even putting greens. Gecko products provide a durable and attractive alternative to traditional grass surfaces that often do not stand up to the pressure of frequent traffic and activity. Our outstanding guarantees ensures your confidence in the strength and durability of our campsite products.
CAMPSITES
Geckos campsite grass eliminates muddy and boggy areas throughout your tourist or caravan park.  It is durable and easy to install and will help to maintain an inviting area for use by future campers … more
---
LANDSCAPING AND POOL AREAS
Geckos premium synthetic grass surfacing is suitable for wet areas and creates an aesthetically pleasing surface to surround pools and water features.  The grass is UV resistant and eliminates hard, slippery and often 'hot' pavers and concrete.   Spend more time in the pool and less time maintaining the lawn with Gecko Premium Synthetic Grass Products.
---
SPORTS AND RECREATION
Whether you are looking to install a multi-sport court, tennis court or netball/basketball court, Gecko has a product to suit your needs.  Choose from a Synthetic Grass or Acrylic Surface.  You are sure to find a solution to meet your needs and keep your visitors active.
---
PUTTING GREENS
Your guests  can 'putt' their days away with the installation of a synthetic grass putting green.  With a Gecko putting green you can be sure that the surface will be carefully contoured and designed to promote maximum challenge and enjoyment for your guests.
---
SOFT FALL – SYNTHETIC GRASS
Gecko's Synthetic Grass Soft-fall Playground System™ provides a safe and durable surface which dramatically reduces the chance of injuries whilst providing a … more
---
SOFT FALL – WET POUR
Wet Pour Soft Fall has minimal seams or joins and is incredibly flexible. It can be very colourful with the option to dye sections in bright fun colours to make your favourite patterns and games or even your … more
---
RUBBER SWING AND SLIDE MATS
The Gecko Rubber Swing Mats are specially designed and manufactured to meet the Australian/New Zealand Standard: AS/NZS 4422:1996 for 1.9m Critical Fall Height for …more
---
TRAFFIC MANAGEMENT PRODUCTS
Our Traffic Division (RPS Traffic) offers a complete range of traffic and safety products for road safety, school zones and parking areas.   Leaders in technology and innovation, our exclusive 'flexible' product range is … more
---
FUN ACTIVITIES
A range of fun activities and rubber animals and logs to inspire creative play … more
---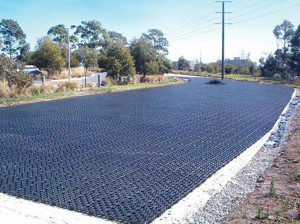 DRAINAGE & SURFACE REINFORCEMENT
The Gecko Ground Cell® and Drainage Cell® products create an attractive, durable hard surface suitable for parking areas, driveways and … more