Drainage & Surface Stablisation
GROUND CELL®
The Gecko-Ground Cell® reinforcement structure creates an attractive, durable hard surface suitable for parking areas, driveways and access roads.  This enables 'year round' use of areas that have previously been inaccessible due to high moisture levels and prevents 'bog holes' from forming and creating a muddy mess. The unique properties of the Gecko-Ground Cell® structure provides surface stability with the added benefit of being able to back fill it or cover it with suitable permeable materials such as crushed rock, synthetic grass or even soil in order to re-grow natural turf. The load bearing capacity of the Gecko-Ground Cell® is impressive with a capability of 225t/m2.
"Up to your ears in mud? Gecko can assist!"
Cost Benefits
The Gecko-Ground Cell® is exceptionally cost effective particularly when compared with the alternatives of concrete and asphalt. The sub-base required for cells is equal to or less than the sub-base required for concrete or bitumen.  The elimination of the traditional storm water system required by impermeable car park installations provides an immediate cost saving when installing Ground Cell reinforcement structure for the same application.
---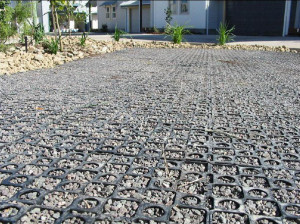 Length: 600mm
Width: 500mm
Thickness: 50mm
Crush Strength: 225 t/m2
"The surface reinforcement structure that turns bogs holes into fully functional areas whilst providing a stable level surface which requires extremely little maintenance"
---
---
---
DRAINAGE CELL®
The Gecko Drainage Cell®  interlocking module removes excess water ensuring areas that are normally not accessible during wet seasons remain fully functional. Ideal for ground stabilization & sub-surface drainage in areas prone to water logging. The cells retain a small amount of moisture which promotes natural growth of grass and when used in conjunction with synthetic grass it assists in cooling. Driving vehicles onto the cells has no effect on the surface as they have a load bearing in excess of 100t/m2.
The use of Gecko Drainage Cell® as an effective drainage medium provides the facility manager with a asset which can be used 365 days per annum. The elimination of the traditional storm water drainage system saves downtime costs to the facility owner and ensures the sporting community maximizes their participation and in turn providing an overall healthy lifestyle.
Length: 480mm
Width: 260mm
Thickness: 20mm
Crush Strength: 100 t/m2
View: Project Case Study