Cricket Pitch Cover System®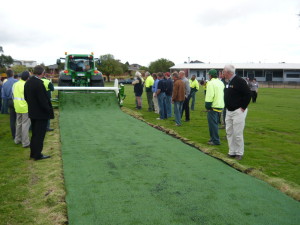 Gecko's Cricket Pitch Cover System® is the quickest and easiest system available to lay out or retrieve pitch covers and making OH&S hazards with cricket pitch covers a thing of the past. Traditionally cricket wickets have been covered with loam and soil during the "off" season. This not only creates a mess, but is an unsafe surface for a footballer to play on.
"Finally, a complete Cricket Pitch Cover System® that's convenient,
mess free and takes 2 men less than 1 hour to apply or retrieve!"
Gecko recognised the urgent need for a system that provides: football player safety; safer manual handling methods for covering wicket and; protection to the cricket wicket when removing cover.  The unique patented system offers an effective method of covering cricket wickets in the centre of the ground, providing exceptional protection to a footballer when falling on the centre pitch area and ensuring the playing pitch remains undamaged.  View: Project Case Study
---
Testing
The Gecko Cricket Pitch Cover Applicator® meets all the AFL guidelines for player safety and has successfully undergone the following testing:
Clegg Hammer Test
Traction Test
Critical Fall Height Test
10 Year 'Written' Guarantee
Gecko offers a 10 year 'Written' guarantee for the Cricket Pitch Cover product.  Gecko's grass is UV stabilized against fading. Australia's UV level is greater than most other countries in the world hence it is imperative that a quality UV resistant material is used in order to achieve our 10 year guarantee.
Gecko's 'Stackable' Racking System
Gecko's Stackable Racking System allows pitch cover spindles to be stacked up to 3 high to gain the best use of available storage space.  The racking protects the pitch cover asset by keep the spindle off the ground preventing rust and pitch deterioration.  Engineered to Australian Standards, the Gecko Stackable Racking System is a valuable one off investment which ensures spindles are stored in a neat orderly manner.  This decreases avoidable trip hazards and increases handling safety.
Racking Dimensions:
Length: 3500mm
Height: 1200mm
Width: 1180mm
"Gecko's unique hydraulic system makes the OH&S issues associated
with cricket pitch covers a thing of the past."
[youtube http://youtu.be/oawah8wDYXw]