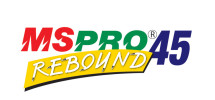 MSPRO®45 Rebound Synthetic Grass

Geckos Premium Synthetic Grass MSPRO®45 has the look and  the feel of natural turf is specially formulated to retain additional infill which in turn provides greater cushioning..  So now when children are 'playing on hands and knees' there is no discomfort or carpet burning.
"Gecko's MSPRO®45 'Rebound Synthetic Grass offers greater cushion
characteristics and is able to withstand frequent activity including children playing
and which will reduce the chance of injuries by eliminating hard, dry dirt areas".
---
MSPRO®45 'Rebound' is suitable for use in playgrounds; landscape areas; general play area, parks and gardens, soccer pitches, sports fields, community football and cricket.
Grass Laid by Qualified Installers
With Gecko your synthetic lawn is installed by Qualified people which are trained to the highest level of competency. This eliminates any risk of poor workmanship at your educational facility.
10 Year 'Written' Guarantee
Gecko offers a guarantee unsurpassed by anyone else in the industry. At the completion of the project we provide a 'Written' guarantee for protection against both the installation process and the product. Gecko's MSPRO®45 grass is guaranteed for 10 years.
UV Stabilised
Gecko's MSPRO®45 grass is UV stabilized against fading. Australia's UV level is greater than most other countries in the world hence it is imperative that a quality UV resistant material is used in order to achieve our 10 year guarantee.
A low maintenance and environmentally friendly surface solution
Gecko's Synthetic grass is "Lead Free" and a very low maintenance, zero water surface solution that continues to perform all year round. The maintenance required is generally no more than removing leaves or debris with a leaf blower or plastic rake.  "Natural turf maintenance contributes 8% of carbon emissions on a global level due to lawnmowers and chemicals".
Fire Retardant
Gecko's MSPRO®45 grass is manufactured using a Fire Retardant additive. This is an imperative for added safety and asset protection.
Triple Latex Backing
In order to attain exceptional durability Gecko insists on it's product being manufactured only with a Triple Latex Backing.
Colours: Tri-colour "Verdi" green
Pile Height: 45mm
  "Reduces the risk of injury to children playing"